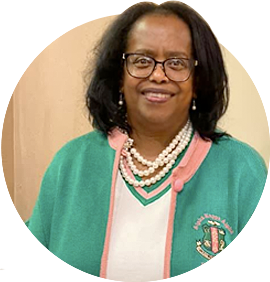 Greetings from the Chapter President
Since 1978, the dynamic and energetic ladies of the Kappa Omega Omega Chapter of Alpha Kappa Alpha Sorority, Incorporated have striven to exemplify excellence in service to the Bakersfield, California community. Our sisterhood is extremely proud of the many programs, activities and partnerships we have executed and forged over the past four decades.
We consider it a honor and privilege to promote and carryout our International Program, "Exemplifying Excellence Through Sustainable Service", under the leadership of our phenomenal International President, Dr. Glenda Glover.
We welcome you to visit our site often to learn more about the history, programs, and activities of Kappa Omega Omega.
Sincerely yours,
Linda W. McKnight, President
Kappa Omega Omega Chapter