The following Sisters have served as President:
Sister Susianna Anderson (1976 – 1978)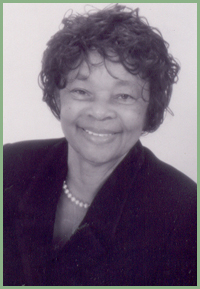 Through Sister Susianna's strength and persistence, the first Graduate line was initiated in 1977. In 1978, the chapter participated and provided assistance in the Kern County Health Fair on the campus of Bakersfield Junior College. This became an annual event for the chapter. The chapters' first fundraiser was held at Bakersfield Country Club. This extravagant dinner dance was well received by the community and proceeds from the affair provided scholarships for high school students.
Sister Susianna's unselfish warmth continues to restore faith to the chapter's growth and her home serves as a meeting place for all important chapter events such as birthday celebrations, initiations, and visitations from Far Western Regional Directors and other dignitaries. Sister Anderson presently serves as the chapter's Hostess.
Honoring Susianna Eaves Anderson
"Golden Sister" (1950 – 2000)
Initiated into Beta Alpha Chapter, Florida A&M University, Tallahassee, Florida, 1950
Chartering Member of Kappa Omega Omega Chapter – 1975
Became a Golden Sister – 2000
Sister Wilma J. Anderson Wright (1979 – 1980)
Sister Wilma J. Anderson Wright served as the chapter's second President. Sister Wilma established the first chapter newsletter and copies were shared with other chapters. The annual dinner dance fundraiser continued. Sister Dr. Ruth Love was speaker at the chapter's Founders' Day Luncheon in 1979. In that same year the chapter began its Graduation Awards program, a much needed program and event for young black graduates of the city.
Sister Wilma was also instrumental in establishing a literacy program for primary and high school students at the Holloway/Gonzales Library. This program led to the chapter's organization and sponsorship of the first "Black History Essay Contest." These programs were greatly appreciated by the Black Community. Sister Anderson Wright presently served as Chaplain for the chapter and is ever the spiritual guide for the sorority.
Sister Mary C. Tomlin (1981 – 1982)
During Sister Tomlin's biennium focus was placed on young black men of the community, and in 1981 the Sorority presented these young, gifted and black males in its first "Beautillion" (the beginning of many years of this very important event). The chapter became an active member of the Southern California Presidents Council (a council of all chapters in the Southern California area, providing communication, comradery and sisterliness to Southern California Sisters), and in the same year, joined Alpha Kappa Alpha Sisters in the Inner-Chapter Founders Day Celebration held in Los Angeles.
In March 1982 Sister Mary served on the Awards Committee at the Far Western Regional Conference in San Jose, California. Sister Mary's goal for the chapter was one of excellence in communication outside of the city of Bakersfield. Sister Mary expanded the chapter's newsletter to include the letterhead caption "Kooing with KΩΩ" bordered by a decorative ivy branch. The chapter was delighted by the change and continues to use this letterhead today. In October 1982, Sister Mary served as Cluster Chairman for the Southern California Cluster Conference held in Bakersfield, California.
During this same period, the first Pan Hellenic Luncheon was organized and sponsored by the chapter. Fundraisers during her term included a trip to Los Angeles to see a production of "Dream Girls," the annual dinner dance, and Fashions from the French Shop (a fashion show featuring designer fashions from a local boutique with Kappa Omega Omega Sisters serving as models). It became one of the sorority's most lucrative fundraisers.
Seeing the continuous need for literacy among children and adults, the chapter maintained the literacy program begun by Sister Wilma Anderson Wright, and stretched its energies to include a conference on child abuse.
Sister Mary served on the Steering and Planning Committee, as the Southern California Presidents prepared for the 1988 Boule, and agreed to serve as Chairman of the Public Meeting for the Boule.
Sister Mary chaired and coordinated the Second Cluster Conference hosted by Kappa Omega Omega in October 1990. Sister Mary Tomlin was appointed Southern California Cluster Coordinator by Far Western Regional Director Billie Jean Barrett in 1991, and helped to assist and provide guidance for the Southern California Cluster hosted by Mu Lambda Omega Chapter in Manhattan Beach, California. Sister Tomlin presented the workshop: "Hosting a Cluster Conference – Planning For Success," at the Far Western Regional Conference in Stockton, California in April 1992.
Sister Marie Brown (1983 – 1988)
Sister Marie served three terms as Chapter President. The chapter continued to flourish under Sister Brown's excellent leadership. Sister Marie engaged the chapter in many outstanding events, one beginning in 1983. The Teenage Pregnancy Conference, featuring local professionals in the field of medicine and counseling, provided guidance for teenagers. The chapter also donated money to local charities, participated in Career Awareness Day and assisted the Bakersfield Chapter of Links, Inc. in its Youth Enrichment Day held at California State University, Bakersfield.
In 1985 the chapter received the "Outstanding Chapter Award." In 1986, at the Far Western Regional Conference in Tucson, Arizona, the chapter received the first place "Scrapbook Award." In 1987 the chapter was represented by President Marie at the Regional Conference in Sacramento, California as Co-Chairman of the Regional Nominating Committee, and in 1988 she served as a member of the Planning Committee which provided organization for the 1988 Boule.
Moving into the 1990's the chapter began a new fundraiser and community involvement thrust, "Miss Fashionetta" a debut for young ladies from the ages of 14 – 17. Sister Mary Williams served as the initial chairman and along with Sister Marie and other chapter members continues to give thousands of dollars in scholarships to young ladies who participate in this event.
Much was accomplished during the six years of Sister Brown's service as President. The chapter pushed for voter registration and participated in the candidacy of Jesse Jackson for President. Sister Marie became the President of the Pan Hellenic picnic and other Pan Hellenic events.
Sister Rochelle Butler (1989 – 1992)
Under Sister Butler's calm guidance the chapter continued as an especially viable and visible member of the Bakersfield community. Miss Fashionetta continued to demonstrate the chapter's sustained commitment to furthering and supporting education. In 1991, Sister Rochelle coordinated Kappa Omega Omega's fifteenth birthday luncheon honoring local black women from all walks of life and occupations. The luncheon spotlighted the plight of these great women and their contributions to the Bakersfield Community. Sister Diane Watson (Senator) was the guest speaker.
During Sister Butler's term of service the chapter continued its commitment to education by conducting tutoring sessions for young children at branches of the Kern County Library. By this time the Graduation Awards program had become well established as a pivotal event in the community. The chapter also donated money and clothing to the Hurricane Hugo victims.
In March of 1991 the chapter saw a new membership intake process that included four graduate members and seven undergraduate general members from San Luis Obispo. These young undergraduate Sisters greatly enhanced the chapter's sisterliness and held an Alpha Kappa Alpha week with the theme: "African Sisterhood: A Tie That Binds."
Sister Butler served on the Nominating Committee at the Far Western Regional Conference in Stockton, California in April 1991. Sister Butler's quiet assertiveness gracefully moved the chapter onward. During Sister Butler's term of service Kappa Omega Omega saw it's greatest representation at every Cluster Conference, Founders' Day, Regional Conference, and Boule since its chartering until then.
In 1996, Sister Butler served as chairman for the chapter's 20th Birthday Celebration. It was a special time to reflect on the many program goals and accomplishments our chapter sponsored. It was well attended! The special guest speaker was Sister Dr. Ruth B. Love of Sacramento. Honorees were Reverend Dr. Tyree Toliver, Pastor of St John Baptist Church; Mrs. Bessie Annette Price, Mother of the Village; Mr. Bakari Sanyu, Education; Mr. Sherman Tyler, Political Award; Mrs. Geri Spencer, Community Service; Mr. Ernest Floyd, Business; and Mrs. Etta Lewis Youth Programs Volunteer.
Sister Daphne Harley-Washington (1993 – 1996)
KΩΩ further grew and matured under the leadership of Sister Washington. She has a strong voice in the business community, and brought that leadership savvy, style and grace to AKA. We are proud of her. Sister Daphne's positive influence and networking connection in the business community has allowed the chapter to expand the scholarship components of Miss Fashionetta and the Graduation Awards program. The number of scholarships awarded to local high school graduates by Kappa Omega Omega Chapter greatly increased under Sister Washington's leadership. PG&E gave a large donation to the chapter's scholarship program at Sister Daphne's encouragement.
Sister Washington helped the chapter step up its practices fiscally by adding an "unplanned giving" category to the chapter budget. Request from students and community-service based non-profit organizations are often supported from this fund.
In 1996, our chapter was honored by the Kern High School District Board of Trustees as a Community Trail Blazer. We received a certificate for awarding scholarships to students and bringing the community together as a village of service to mankind. The chapter is proud of the recognition and we are grateful to Sister Daphne for her vision and leadership. Sister Washington also served as the Membership Chairman.
Sister Caren Floyd (1997 – 2000)
Sister Caren continued an effective AKA tradition of community service to all mankind through numerous programs that addressed the International Strands. Under Sister Caren's leadership several new community programs and projects were initiated on behalf of Alpha Kappa Alpha Sorority, Inc., Kappa Omega Omega Chapter: PIMS, On Track and the Executive Board Retreat. Sister Caren's tenure ushered in 25 years of Kooing with KOO. A successful dinner dance was held at the Holiday Inn Select in May of 2000.
Sister Holly Mitchell (2001 – 2004)
Sister Holly stepped into the new millennium with a passion for technology. She proved to be very astute at using email to conduct chapter business and kept Sisters informed of upcoming events. Upon entering her office one of the first sorority events was a technology workshop based on information received at a recent regional meeting. Sister Holly is also an advocate of sisterly relations. She saw to the sorority holding a Sistah Affair in the home of Sister Vivian Gayles on September 30, 2001. The chapter event hosted women of color, from the community to fellowship and celebrate womanhood. This event was also the sorority's reactivation activity for inactive Sisters.
Sister Pamela Wright (2005 – 2006)
Sister Pamela was also an advocate of technology and continued to build upon the legacy that Sister Holly Mitchell began. She implemented a technology program within the chapter that included creating a website as well as maintaining all financial, historical, and committee reports electronically. These changes streamlined the business of Kappa Omega Omega allowing chapter information to remain updated and stored securely. Sister Wright continued in the tradition of following the national programs. The health strand was implemented at each of the chapter meetings by giving Sisters a health tip each month. The chapter also participated in community health fairs, the Juvenile Diabetes Walk and our own Walk for Education which still continue to this day. Sisters were encouraged to continue to reclaim those that were inactive.
Sister Odella Johnson (2006 – 2010)
Meeting the demands of a diverse population each year, KΩΩ continued to evolve and carry out the sorority's national focus of Economic Service Platforms. To this end, Kappa Omega Omega continued to bond the Bakersfield community together with focused attention during Sister Odella's leadership on several projects. Projects such as the Heritage Committee Visit, took center stage in 2007 for which Kappa Omega Omega received high ratings. In 2008, at the AKA Washington, D.C. Centennial celebration, Sister Odella served as Kappa Omega Omega's Centennial president and descended upon the city with record numbers of Alpha Kappa Alpha leaders to celebrate the founding of our noble sisterhood.
Also, during Sister Odella's tenure as President, KΩΩ reorganized and catalogued its documents in 2009, which resulted in the Archives committee putting together its archival project. In 2010 the Kappa Omega Omega archival project received regional recognition as "Simply the Best" in Strategic Preservation at the Far Western Regional Conference. Another focus during 2010 was the use of technology to enhance our Miss Fashionetta program; the Miss Ivy Angel program was expanded to include Mr. Debonair and these two areas were a wonderful addition to our signature program. Finally, Kappa Omega Omega expanded its use of technology to the Miss Fashionetta program; in 2010 the first ever Miss Fashionetta website was purchased by KΩΩ (www.missfashionetta.com) and this move enhanced our use of technology, not just on a local level. We were able to promote our programs, highlight our community involvement and participation on a global level. Finally, in 2010, during Sister Odella's tenure Kappa Omega Omega continued to focus its attention on the retention and reclamation of its members; once again, in 2010 Kappa Omega Omega garnered several recognition awards in the areas of retention and reclamation during Sister Odella's tenure.
Sister Ruscel Reader (2011 – 2012)
Sister Ruscel Reader has been honored for several of her accomplishments as Kappa Omega Omega's eleventh president. In 1980, Sister Reader developed the Kappa Omega Omega Scholarship and Awards Program to honor African American high school students in the Kern High School District. Historically, African American students had not been recognized at the traditional high school awards programs. Sister Reader organized a networking structure that included chapter sorority members, other fraternities and sororities, local churches, civic organizations, high school Black Student Unions and individual donors to collaboratively focus on and recognize outstanding African American high school students through the establishment of this annual program. Through Sister Reader's continued vision, the Graduation Awards Program grew to include African American eighth grade honor roll students from the twenty three junior and middle schools in the community. This encourages our youth to strive for academic excellence and to show them that hard work, superior grades and good citizenship pay off in scholarship and other opportunities for learning.
Click here to read Sister Reader's 2011 EAF Leadership Award narrative
Sister Raquell Jones (2013 – 2014)
Raquell Jones was elected to the office of President after sixteen years of membership in Alpha Kappa Alpha Sorority, Incorporated. Her term as president spanned from January 2013 to December 2014. Sister Raquell previously served Kappa Omega Omega as Chairman of the Miss Fashionetta Souvenir Book and Technology Sub Committees, Graduation Awards Chairman, Chapter Technology Chairman, Chaplain, and Secretary.
In 2004, as the Chapter Technology Chairman, she developed a website that set the standard for other chapters to follow. Sister Raquell also worked closely with then Chapter President Pamela Wright to present Sorors with workshops on internet and software issues. In 2011, Sister Raquell set up DropBox access for chapter use allowing Sorors to easily connect with copies of important documents such as Chapter Bylaws, Meeting Hostess Lists and Chapter Roster. Shaped by her years of work with sorority members and depth of knowledge of technology, her vision as president was to streamline the sharing of information about Kappa Omega Omega chapter activities to increase member participation.
Sister Caren Floyd (2015 – 2016, second term)
Sister Caren returned to serve as president of Kappa Omega Omega Chapter for a second term. She lead with direction from the International President, Sister Dorothy Buckhanan Wilson, in "Launching New Dimensions of Service" throughout Bakersfield and Kern County, the Southern California Cluster and the Far Western Region of Alpha Kappa Alpha Sorority, Incorporated.
Sister Michelle Shannon (2016 – 2018)
Sister Linda McKnight (2019 – present)